Paying back your student loan debt can just drive you nuts. The Consumer Financial Protections Bureau (CFPB) just released a 50 state look at complaints about student loans you can read here.
Here at the Student Loan Resolution Center, we've heard it all and we've seen it all! Student loan borrowers struggle when they repay their student loans. We've heard many complaints about student loan services, debt collectors, private student lenders and companies who market student loan debt relief.
The CFPB reviewed 50,000 student loan complaints and 10,000 debt collection complaints related to both private and Federal student loans through September 30, 2017.
What Happens In Florida?
In Florida there were 3, 314 complaints with a 75% change in the volume of student loan complaints. There were also 815 complaints about debt collection which reflects a 6% increase.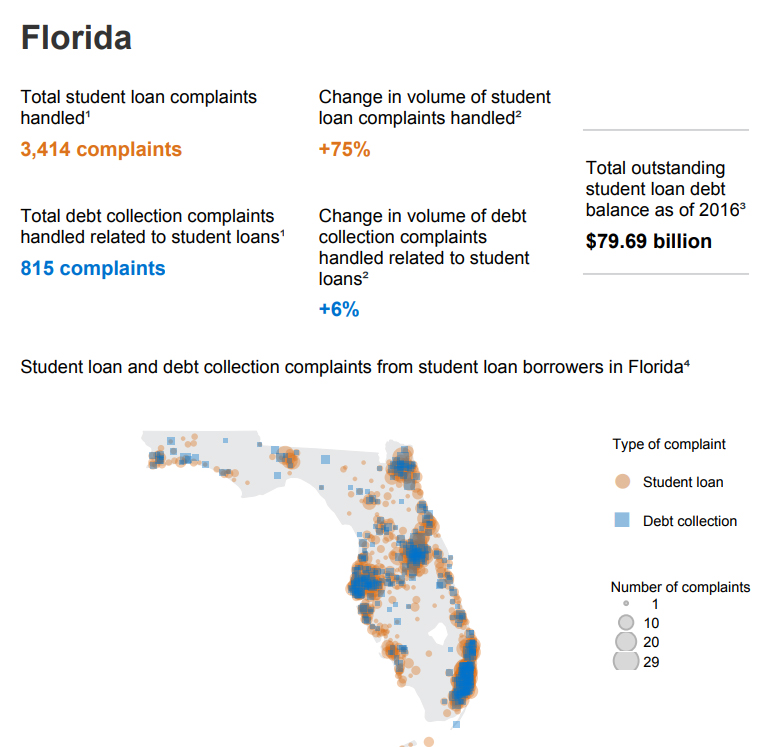 As the map indicates the primary targeted areas have been Tampa Bay, Orlando, Miami, Jacksonville, Sarasota and Miami. In reality, student loan debt reflects all Floridians. There is an outstanding student loan debt balance as of 2016 of $79.69 billion dollars in Florida alone.
What You Should Do If You Are Having A Hard Time Paying Your Loans Back
If you're having difficulty paying back your student loans, it's time to contact the Student Loan Resolution Center.
Attorney Nancy Cavey is one of only 100 of student loan lawyers who practice student loan law in the United States.
You owe it to yourself to have a fresh start on your student loans. Call today at 727-828-9955.