Did you know the Fair Debt Collection Practices Act (FDCPA) prohibits abusive conduct by student loan debt collectors. The debt collector can't legally harass you all hours of the day and night trying to collect on that student loan debt.
The 5 Reasons To Sue The Student Loan Bill Collector
Did you know that you can sue the bill collector for violations of the FDCPA? And, better yet, it may help with the resolution of your outstanding student loan debt! There are five great reasons why you should consider filing an FDCPA lawsuit if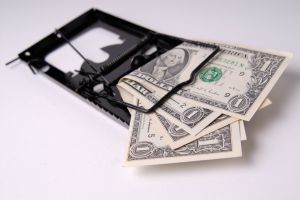 the student loan collector is harassing you and your family.
1. The lawsuit will make the abusive debt collection tactics stop! Debt collectors will often contact family members, friends, and even your employer about your debt. Worse yet, they may use profane and abusive language and threaten you with lawsuit or even jail. Those are violations of the FDCPA and you can stop the abuse immediately by filing a lawsuit.
2. The FDCPA allows for statutory damages of up to $1,000 per violation. It's a "strict liability" statute which means that the student loan debt collector engaged in illegal and abusive debt collection tactics, they have to pay you up to $1,000 in damages for each violation.
3. You can actually sue for what is called "actual damages." If you've lost your job because of harassment, have had to see a psychologist or a psychiatrist because of anxiety or had medical conditions flare up because of harassment, you can sue for actual damages. And, guess what? There's no limit on how much you can collect.
4. The FDCPA requires that the offending student loan debt collector pay your legal fees. When you hire a student loan attorney who specializes in debt collection activity, and they'll have to pay my fee if we are successful.
5. Your costs are paid. We sue to stop the harassment by the debt collector. When a lawsuit is filed, you have to pay a filing fee, in addition to what an attorney charges. Filing fees are charged by the court and process fees have to be paid to the process server for serving the complaint and the summons on the debt collector. Under the FDCPA, you can recover those damages, too if you are successful.
What You Should Do If You Think You Have a Fair Debt Collection Practices Act Claim
Are you tired of asking them to stop? If so, it's time to contact FDCPA Student Loan attorney Nancy Cavey who can stop the student loan debt collector in their tracks! Call today at 727-828-9955.