If you're one of the 412 medical school graduates who are unable to find a residency program because of problems with supply and demand, you may be thinking about putting your medical student loans in deferment or forbearance. I'm sure it was a crushing disappointment not to be placed in a residency program and now you're faced with the prospect of dealing with your student loans. You have options and choosing the wrong one can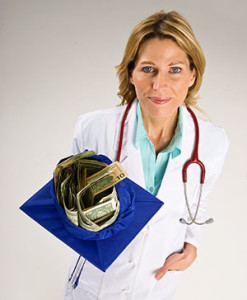 impact your finances for years.
You can choose to postpone the payments or begin repayment with an Income-Based Repayment Plan. Let's look at each option.
Deferment
Deferment is a temporary period for which you're not required to make payments. It's often a better option for borrowers than forbearance. While you're in medical school, your loans were probably in deferment and most residents continue with deferment.
However, interest on a subsidized loan does not accrue during deferment, while interest does accrue during an unsubsidized loan.
Forbearance
Like deferment, forbearance temporarily suspends the requirements to make the payment. However, interest on both subsidized and unsubsidized loans continues to accrue. It might be the only viable option should you wish to avoid making payments all together, but a far smarter choice is an Income-Based Repayment Plan.
Repayment Plans
There are several choices of repayment plans designed to give you flexibility and you can change the repayment plan as your financial situation changes. Because you aren't in a residency program, you may be unemployed or working in the medical field earning significantly less than you could otherwise.
There are three possible income repayment plans that might be right for you. These include:
Income-Contingent Repayment (ICR)-
This does not require a partial financial hardship and payments are set at a percentage of your total gross monthly income. We generally don't recommend this and think that Income-Based and PAYE are the better solutions for those medical school students who have been unable to get a residency.
Income-Based Repayment (IBR)-
An Income-Based Repayment Plan will cap your payment at 15% of your discretionary income for borrowers who qualify for a partial financial hardship.
Pay-As-You-Earn (PAYE)-
PAYE caps the monthly payments at 10% of the discretionary income for borrowers who did not have any balance on a federal loan as of October 1, 2007 and who qualify for a partial financial hardship.
Depending on when you entered into medical school, you may only be eligible for an Income-Based Repayment Plan. Since IBR is based on your discretionary income, you may even have qualified payments as low as zero.
Of course, once you get your residency program, your payments will change based on your income but, the beauty is that the repayment plan will meet your specific financial situation while you're waiting to get into a residency program.
How should you choose a student loan repayment plan?
Contact Student Loan Resolution Center today for personalized consultation. Unless you have unique circumstances, we believe that your best option during this period of time when you're without a residency, would be to select an Income-Based Repayment Plan. While you can apply for these programs on your own, we think you're better served by getting advice from an experienced student loan attorney who can help you. Don't be a victim of the residency shortage and call us today for help!
Some sources credited to Article in Tampa Bay Times, Sunday, June 15, 2014 MED GRADS BEING LEFT OUT